UP AND AWAY WITH MBX: IT DOESN'T YET HOVER
ON ITS OWN. BUT WE'RE WORKING ON IT.
Particularly flat and filigree letters present new challenges for fastening techniques, as they are not compatible with conventional solid fastening solutions. The alternative is to use a 5-mm-thick aluminium base plate cut to the shape of the letters with a laser, creating filigree transitions from one letter to the next. The ceiling and wall fastenings are also cut out of the base plate. The wiring is done invisibly using ribbon cables.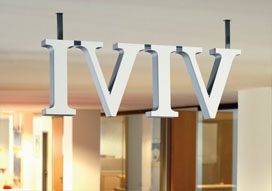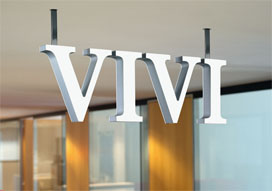 WALLS, ROOFS AND FACADES:
MBX ENSURES THE PERFECT LOOK.

SCREW FASTENING
A direct fastening for walls or facings using special stainless steel bolts.

PLUG-IN FASTENING
A current-carrying plug-in connection can be simply created using various types of CINCH plugs. Recommended for indoor use only.

DUAL CHANNEL
The letters can be manufactured ex works ready to mount with stable cable channels and U-profi les in the dimensions 10 / 10, 15 / 15 or 20 / 20.

SINGLE RAIL
We offer fi ligree fi shbone designs in the dimensions 25 / 25 and 30 / 30 for MBX lettering to be fi tted with a base rail.

CURRENT-CARRYING
These aluminium profi les measuring 10 x 12 mm provide a low-cost, fi ligree and above all cable-free connection between the letters.